A Herby Mother's Day Meal To Remember
A Herby Mother's Day Meal To Remember
http://rgfresh.co.uk/wp-content/uploads/a-herby-mothers-day-meal-to-remember.jpg
1024
569
R&G Fresh
http://rgfresh.co.uk/wp-content/uploads/a-herby-mothers-day-meal-to-remember.jpg
With Mother's Day just around the corner, we thought it would be nice to come up with a whole three-course mother's day dinner you could make for her at home that's packed with fresh herbs and ingredients.
These are three of mum's favourite recipes with a herby twist.
Starter: Herb and chilli calamari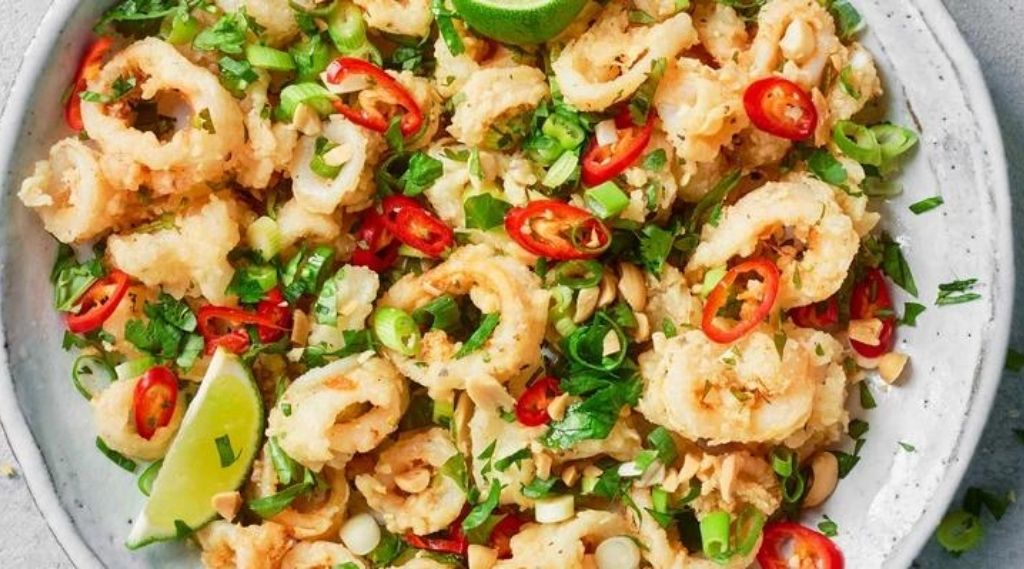 The first of our Mother's Day dinner ideas is fantastic as a starter to share but also great as a meal outright on its own!
Ingredients
Half a bunch of finely chopped coriander
Two deseeded sliced red chillies
50ml milk of your choice (unsweetened)
50g plain flour
50g cornflour
Oil for deep frying
400g squid
Sea salt and ground pepper
Three finely sliced spring onions
A handful of chopped or crushed peanuts
Two limes, cut into wedges
How to make
Take two mixing bowls. Add both types of flour to one and season with salt and pepper. Pour the milk into the other bowl. Take a frying pan and fill it around a third full with oil, then heat it until sizzling
Take batches of the ringed or spiralled squid and dip them into the milk, then into the seasoned flour, coating it well. Then lower the seasoned squid into the heated oil for up to two minutes until golden. Place in a bowl lined with kitchen paper and season it with the sea salt and more pepper as required.
Once you've cooked all the squid and left it to drain of oil, place it in a serving bowl and add the chillies, spring onions, peanuts and coriander, stirring them all through until the bowl looks colourful and appetising. Serve as a sharer with lime wedges for squeezing.
Main: Citrus-herb roast chicken with lemon herb Hasselback potatoes
We think Mother's Day meals should have a satisfying main course, and we love a herby lemony theme that really gets across the sense that spring is finally in the air.
Ingredients for the chicken
Two fresh sprigs of rosemary
Four fresh sprigs of dill
Four fresh sprigs of thyme
A large fresh ready-to-roast chicken
Six medium-sized carrots, halved and cut into chunks
Three to four wedged red onions
Around 1kg of cubed butternut squash
Six spring onions cut into small chunks
One lemon
One orange
One teaspoon of salt
Half a teaspoon of pepper
Around 700ml of chicken stock
How to make
Preheat the oven to 180 degrees centigrade/gas mark four (higher if not a fan oven). Cut the garlic into smaller chunks then make several incisions in the chicken breasts, drumsticks and thighs and push the garlic into them. Once you're done, tie the drumsticks together, so they're held in place like in the picture above.
Put the chopped up carrots, squash and red onions in a shallow roasting pan with the rosemary, dill and thyme to make a bed for the chicken, then place the chicken on top. Cut both the lemon and orange in half and squeeze the juices all over everything in the roasting tray, getting an even spread over chicken and herbed veggies. Once they've been squeezed through, push the fruits into the cavity of the chicken and season the chicken with salt and pepper. Once that's done, pour the chicken stock evenly around the outside of the chicken so it can be absorbed by the veg.
Roast for the guidance given on the chicken depending on its exact weight – typically around two and a half hours for a large chicken of around 2.5kg. (a cooked chicken should be around 74 degrees centigrade). If the chicken starts to brown too quickly, cover it with foil. Around 20 minutes from the end of cooking, sprinkle the spring onions over the veg.
Take the chicken out of the oven and cover it with foil (or leave covered if it already is). Let it stand for 15 minutes before serving with…
Ingredients for the potatoes
One tablespoon of fresh thyme leaves
Two tablespoons of fresh minced parsley
Six large russet potatoes
Around 120g of butter
Four grated garlic cloves
A lemon (zested then sliced)
One tablespoon of sea salt
One tablespoon of cracked black pepper
Two tablespoons of olive oil
Two whole heads of garlic, each cut in half
How to make
Place the thyme, rosemary, butter, grated garlic, lemon zest, salt and pepper into a bowl and mix together until you have a smooth buttery mixture.
Cut deep, thin grooves along each potato around half a centimetre apart, giving the potatoes that ridged appearance.
Put the potatoes in a shallow pan for baking then coat them with the butter mix you made earlier. Drizzle some olive oil (or spray some fry light) onto the top, and place the lemon slices and garlic heads around them.
Cover the whole pan with foil and bake for an hour and a half, removing the foil for the final 30 minutes. If your chicken takes around two and a half hours, this means you can prepare the chicken, then sort the Hasselback potatoes while the chicken cooks for the first hour.
Dessert: Rosemary and thyme apple pie with tarragon and mint ice cream
Dessert is an essential part of all Mother's Day meal ideas, and a freshly made one can play an essential part in making mum feel special and appreciated on her big day. And this herby combination, in our minds, is extra special! Given the timings, we recommend beginning this process before you start work on the starter or main course above.
Ingredients for the apple pie crust
340g of plain flour
One tablespoon of white sugar
One teaspoon of salt
230g unsalted butter (frozen)
Ingredients for the apple pie filling
One and a half teaspoons of fresh chopped rosemary
One teaspoon of dried thyme leaves
Eight peeled, cored and sliced granny smiths apples
120g of unsalted butter (room temperature)
Three tablespoons of plain flour
100g of white sugar
100g of light brown sugar
60ml of water
How to make
Starting with the crust ingredients, whisk together the flour, sugar and salt in a large bowl and place the mixture in the freezer for 30 minutes. Also, place the butter in the freezer at this point if you haven't already, albeit separately from the mixture. Then measure out 250ml of water and set aside, adding a few ice cubes to cool the water right down.
Take the flour mixture and butter out of the freezer and grate half the butter into the mixture, tossing it together with a spatula. Pour the ice water into the mixture, adding a bit at a time until it begins to form a clumpy dough. Knead this together with your hands until it has the right consistency, then tear the dough in half, covering each in clingfilm. Place both in the fridge for at least an hour.
After an hour, take the dough and roll out one half into a lightly floured large pie pan. The second lot of dough you should take and roll out on a lightly floured chopping board, then cut into long strips which will form the crust. At this point, turn on the oven, preheating it to 220 degrees or gas mark seven.
Fill the pie base in the tin with the sliced apples, then place the strips of dough over them, sealing the pie with a lattice crust that weaves in and out as pictured. Place the pie in the fridge while you go on to making the herby sauce.
For the sauce, melt the other half of the butter in a saucepan and stir in the three tablespoons of plain flour in the fillings list above. This will form a paste. Add to it the white and brown sugars along with the 60ml water, plus of course the chopped rosemary and dried thyme. Bring the whole thing to the boil, then reduce the heat quickly, simmering it all for five to seven minutes until the sauce has thickened.
At this point, all that's left to do is to remove the pie from the fridge, pour the caramelised herby butter sauce over it in a delicious pattern, and place it in the preheated oven, turning the heat down to 175 degrees centigrade or gas mark four. The whole pie should take around 40 minutes to cook, and we advise letting it cool for around five minutes before serving.
Ingredients for the ice cream
If you thought a rosemary and thyme apple pie was a flavour treat, wait until you try it with this! Herby ice cream really is the perfect accompaniment, and a fantastic way to finish off your specially-made herby Mother's Day dinner. Like the apple pie, this recipe takes several hours from beginning to end, but can actually be left overnight. We'd therefore suggest making the mixture the day before you intend to use it, then finishing it off in the ice cream maker and freezing the mixture before you start cooking the chicken.
To make this sumptuous ice cream, you will need:
15g of mint leaves
15g of fresh tarragon leaves
480ml of thick cream or a non-dairy equivalent
240ml of a milk of your choice
100g white sugar
Six egg yolks
A bag of ice
Water
An ice cream maker!
How to make
Pour the cream and milk into a saucepan over a medium to low heat for three minutes until it's steaming without getting as far simmering. Add the mint leaves, then turn off the heat, cover, and set aside for an hour. After that hour, strain the mixture through a sieve into another pot, so the mint leaves aren't left in it.
Fill a big bowl three-quarters full with water, then top up with ice to make an ice bath.
Put the pot of now minty cream and milk mixture back onto a medium0low heat until it's once again steaming. Then whisk together the egg yolks and sugar for a minute or so until the mixture is sticky and runny. Gradually pour in one-third of the heated mixture from the pot, whisking as you go. Then pour that whisked mixture into the rest of the heated milk and stir it all together. Cook it for another five to seven minutes until the mixture is more like a nice thick minty custard.
From here, put the custard through a sieve into a medium-sized mixing bowl, then place that bowl in the ice bath, ensuring no water leaks into it from the sides. (Cover it if you're unsure about this). Leave it there for around 10 minutes, then pour the cooled mixture into a blender along with the tarragon leaves, pulsing it all together until combined.
At this point you need to refrigerate the mixture for at least four hours (for ease, we'd suggest overnight as per above). From there, it's a simple matter of running the mixture through your ice cream maker, then freezing it for at least two hours before serving with the apple pie!
Need more herby recipes?
We sincerely hope you loved these Mother's Day dinner ideas. If you do choose to make any of them, please let us know in the comments below!
Don't forget to check out The Chopping Board for more herby meal inspiration, or shortcut to some of our favourites at the blogs below.
From all of us here at R&G Fresh, have a fantastic Mother's Day!