Have Yourself a Herby Little Christmas
Have Yourself a Herby Little Christmas
http://rgfresh.co.uk/wp-content/uploads/Have-Yourself-a-Herby-Little-Christmas.jpg
1024
569
R&G Fresh
http://rgfresh.co.uk/wp-content/uploads/Have-Yourself-a-Herby-Little-Christmas.jpg
It's that time of the year again! Thankfully, after last year's bubbled-up six-person festivities, this year we can finally all return to throwing big festive bashes for families and friends alike.
Here at R&G Fresh, we're always looking for ways to use fresh herbs and spices in our food and drink, and at Christmas we love nothing more than finding creative festive recipes to let us do exactly that!
These are some favourites we can't wait to use this year. Read on for some of the best ways to incorporate herbs and fresh ingredients for Christmas 2021.
Red hot Santa Tini cocktail
Starting off your Christmas party with pre-dinner cocktails? You couldn't get more festive than a Santa Tini!
This spicy blend of chilli-infused vodka, chocolate liqueur and whipped cream from Mix That Drink comes with a real kick that'll work nicely as a tasty appetiser before the main meal. Our favourite part is the decorative red chillies that set the Santa Tini apart from other Christmas cocktails. Definitely one for the spice lovers in your life this holiday season!
Roast Carrot & Black Bean Paté with ground coriander and ginger
Who doesn't love a little paté before a roast dinner? This recipe from Yummly is the perfect starter for your Christmas dinner because it's a little lighter than your typical meat-filled spread.
The carrots and black beans work together deliciously, and the coriander and ginger, together with lemon and garlic, all serve to add a richness and zing that'll go down a treat. For our money, coriander and ginger are two of the best Christmas herbs to use in food, and they work brilliantly here.
Christmas turkey crown full of fresh rosemary and flat-leaf parsley
Another two of the best Christmas herbs to use are rosemary and parsley. This scrummy BBC Good Food roast turkey crown recipe packs them both in alongside sliced pancetta, garlic cloves, lemon and even grated parmesan. (We'd also consider adding some thyme for extra earthy richness!).
The whole thing will take just over two and a half hours to prepare and cook in a pre-heated oven, and being a crown means there'll be no bones to contend with when it comes to carving. Bonus!
Big herby Yorkshire pudding with chives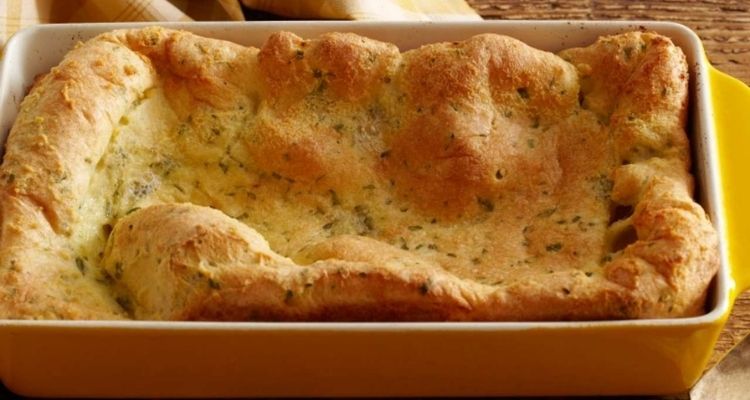 Christmas dinner wouldn't be the same without a Yorkshire pudding, and we absolutely love the novelty of this giant one from the Food Network.
Better still, the batter mix is infused with mixed herbs (the recipe recommends chives, and we'd go with that too) before being baked in the oven for about 15-20 minutes. The only real challenge is that with the size of it, finding space for it on the shelves amongst everything else could be tricky. We just hope you have a big enough oven!
Fruit mince tart with sage pastry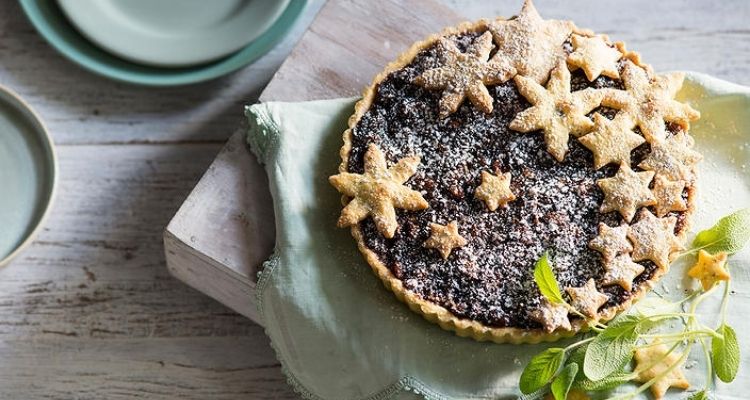 For dessert, we've ignored the traditional Christmas pud and gone for a twist on an altogether different British classic – the humble mince pie.
This festive mint tart recipe by SBS uses sage in the crust to give it a slightly bitter, lemony flavour that perfectly complements the ingredients in the spiced fruity filling.
Speaking of spices, the recipe doesn't specify what goes into the spice mix, but we like to use equal amounts of cloves, ginger, nutmeg, cinnamon and allspice (all ground to a fine powder). And that's part of why we love this dish – it's just one of the very best ways to incorporate herbs and spices for Christmas.
Homemade mulled wine
And finally, once everyone's feeling full, why not wash down all that good festive grub with a hearty mug of warm mulled wine?
This mulled spice mix from All Recipes is made from a cinnamon stick and ground cinnamon along with cloves, nutmeg and more ground ginger (a particular Christmas favourite in this piece!).
Better yet, place these little spice packages in a fancy box with a bow around it and they make a great Christmas gift – meaning you can give the gift of fresh produce this festive season.
What will you be eating and drinking this Christmas?
So, those are our suggestions to help you have yourself a herby little Christmas. In fact, if you looked very closely, you may have noticed that we worked 12 herbs and spices of Christmas in there:
Chillies
Coriander
Ginger
Rosemary
Parsley
Thyme
Chives
Sage
Cloves
Nutmeg
Cinnamon
Allspice
Just about the only thing we haven't mentioned is mint. You can find that in this Merry & Bright festive cocktail mentioned over in our blog about using herbs and ingredients in drinks, and lots of food examples in our piece on our favourite herby lamb preparations.
And with that said, all that's left to do is wish you a very Merry Christmas from everyone here at R&G Fresh!