Herby Treats For Farmhouse Breakfasts
Herby Treats For Farmhouse Breakfasts
http://rgfresh.co.uk/wp-content/uploads/Herby-Treats-For-Farmhouse-Breakfasts-2.jpg
1024
569
R&G Fresh
http://rgfresh.co.uk/wp-content/uploads/Herby-Treats-For-Farmhouse-Breakfasts-2.jpg
Since 2000, January has been the time for Farmhouse Breakfast Week. However, After last year's alternative lockdown take on the event, this year it seems to have gone on a hiatus. But that won't stop us from taking matters into our own hands and sharing some of our favourite tasty breakfast ideas packed with fresh herbs!
What is a farmhouse breakfast?
A farmhouse breakfast (sometimes called a farm kitchen breakfast) is a breakfast using many of the ingredients you'd expect to find grown or reared fresh on a farm – from wholesome grains to delicious eggs and juicy meats. In truth, the term 'farmhouse breakfast' is often used interchangeably with a full English breakfast. So that's what we'll be focusing on here!
Below, we've picked out some tasty ideas that include everything you'd expect from a typical English breakfast, along with one or two more left-field ideas to spice up your breakfast plate.
What should be in a full English breakfast?
There's no set definition of what a full English contains, but typically it's a fry up breakfast including things like bacon, sausages, beans, eggs, toast, hash browns and freshly cooked vegetables like mushrooms and tomatoes.
The farm kitchen breakfast recipes we've sourced below include creative uses of fresh herbs and other ingredients. We're biased, of course, but we think they make for the best English breakfast going.
Country-style full English breakfast hash with fresh parsley
Over in America, they call these dishes 'country breakfast skillets.' In the UK, we refer to them simply as a 'hash.' Either way, you're getting an English fry up with a difference. Rather than presenting everything separately, you enjoy a jumble of delicious food, all cooked in a single pan where the flavours can meld together.
The British breakfast hash recipe we like the most is from Best Recipes UK. It packs in new potatoes, red onions, bacon lardons, free-range eggs and pork sausages alongside some finely chopped parsley, which gives the dish so much texture and richness. If you haven't tried it, you simply have to – it's that good!
Not eating meat? Try this one-pan veggie full English with rosemary from Alpha Foodie instead.
This is one of the two left-field ideas we mentioned earlier. Avocado certainly isn't a staple of a traditional English breakfast, but it's become far more commonplace with the Americanisation of breakfast cuisine. And we have to say, we love it. It's healthy, tasty, and works amazingly well with fresh herbs and spices.
When it comes to using avocado for breakfast, there are plenty of options. But we find these English muffin tostadas from HEB to be a particular delight. The combination of lemon and chives gives them a tangy yet rich, slightly oniony flavour that works together so well, and the addition of coriander lends even more depth to the taste. We also like to add some salt that isn't in the recipe, further bringing out the satisfying richness of the avos!
A full breakfast in its own right, you can also spread these thinly and use them as a delicious alternative to buttered toast to have alongside a more traditional full English breakfast.
One word of warning: because this is an American recipe, you may need to convert some US measurements to UK-friendly ones. This page at Fab Flour should help.
Herb scrambled eggs with thyme, oregano, parsley and chives
If you like your eggs scrambled, this herby offering from Chev Savvy could be perfect either on its own, or as part of a larger English fry up.
It's actually a very slight ingredients list, with herbs making up most of the items. Which we absolutely love to see!
The parsley here acts as a garnish, while the thyme and oregano are designed to go into the egg mix itself. The chives meanwhile can be used either way. Or you could do what we do and use them as a bit of both!
Like your eggs a different way on the side of a full English? Try this perfect herb omelette recipe from Taste Australia instead.
Green chilli and parsley-infused yam hash browns
This novel hash brown recipe from Ndudu is the second of the two quirky and unusual recipes we mentioned earlier – and we absolutely love it, for precisely that reason!
It comes from a blog dedicated to modern West African dishes, and features grated yams and onions with pepper, parsley and deseeded green chillies for a little residual heat. It's all bound together by an egg and then fried in a pan over a low heat. Easy!
Of course, yams are plentiful in both West Africa and America, yet can be especially hard to come by in the UK. But if you're hoping to use this technique for your own English breakfast – fear not! Simply swap the yams for a grated sweet potato or two instead and keep everything else the same. It won't be exactly the same, but it will still be darn tasty.
This recipe is great anywhere you'd typically want a hash brown, but it goes especially well with Ndudu's full English, which you'll find here.
Veggie breakfast fry up with rosemary or thyme and chilli flakes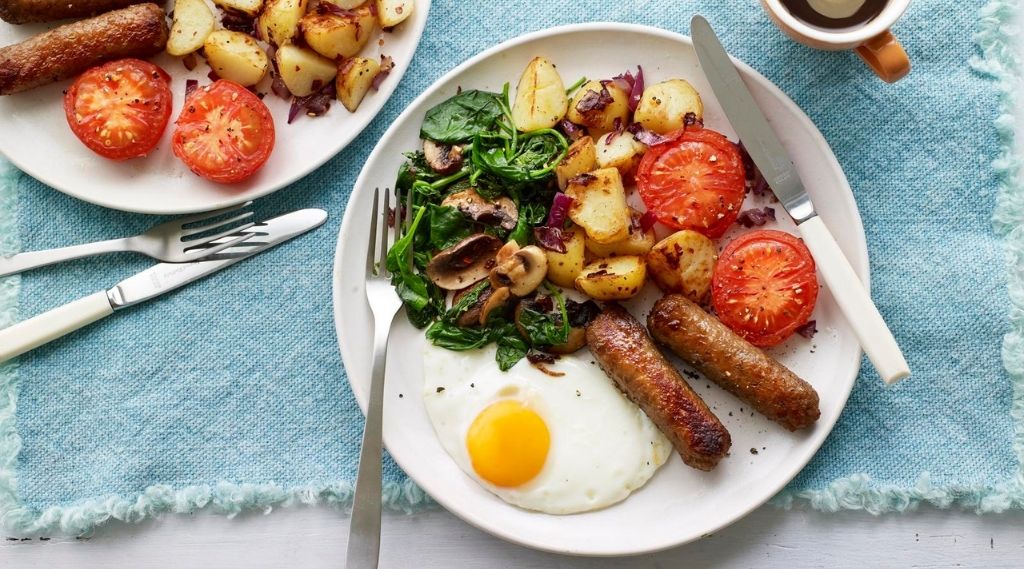 Lastly, we come to the quintessential British breakfast – but with a twist. This full English recipe from BBC Good Food is entirely vegetarian!
You can make it in just 30 minutes, and for our money the standouts are the liberal uses of either thyme or rosemary – along with the heat from the chilli flakes. (We tend to dry out our red chillies to make our own). At just 500 calories per serving, it's a great way to get a full English into you while still committing to a new year diet. The lack of meat also means it's a little lighter on the stomach, which is never a bad thing if you have a busy morning ahead.
Missing the meat from this recipe? Just swap the veggie sausages for meat ones, plus add bacon, chorizo bits, the hash brown, egg or muffin recipes we've shared above – or anything else that takes your fancy!
How do you like to use herbs at breakfast time?
So those are our suggestions for farmhouse breakfasts with a herby twist. Will you be trying any? Let us know in the comments below.
If we've whetted your appetite for more herb-filled tasty treats at breakfast time, then check out this page at Organic Authority for six more amazing ideas. Or head to The Chopping Board to get more inspiration on cooking with fresh herbs.