How to Store Your Fresh Cut Herbs & Ingredients So They Last Longer
How to Store Your Fresh Cut Herbs & Ingredients So They Last Longer
http://rgfresh.co.uk/wp-content/uploads/Fresh-Cut-Herbs.jpg
1024
569
R&G Fresh
http://rgfresh.co.uk/wp-content/uploads/Fresh-Cut-Herbs.jpg
The lockdown, due to the COVID-19 pandemic, affected many aspects of our lives.
One change was that people started experimenting with new recipes, some of which included fresh herbs, as was evidenced by the herb sales surge reported by Waitrose.
At R&G FRESH, we are passionate about encouraging people to use more fresh herbs and ingredients in cooking, so we are excited about this trend. However, we are also aware that you as a consumer want to make the most out of your purchase too.
That's why we decided to offer our advice and expertise on how to store your fresh cut herbs and ingredients so they last longer.
Different types of fresh herbs
Before we talk about how to store fresh cut herbs, it's important to understand the difference between hard herbs and soft herbs. The reason why this distinction is important is because the two types 'behave' quite differently from each other.
Understanding this difference allows us to treat them the right way, helping to prolong their freshness.
Soft herbs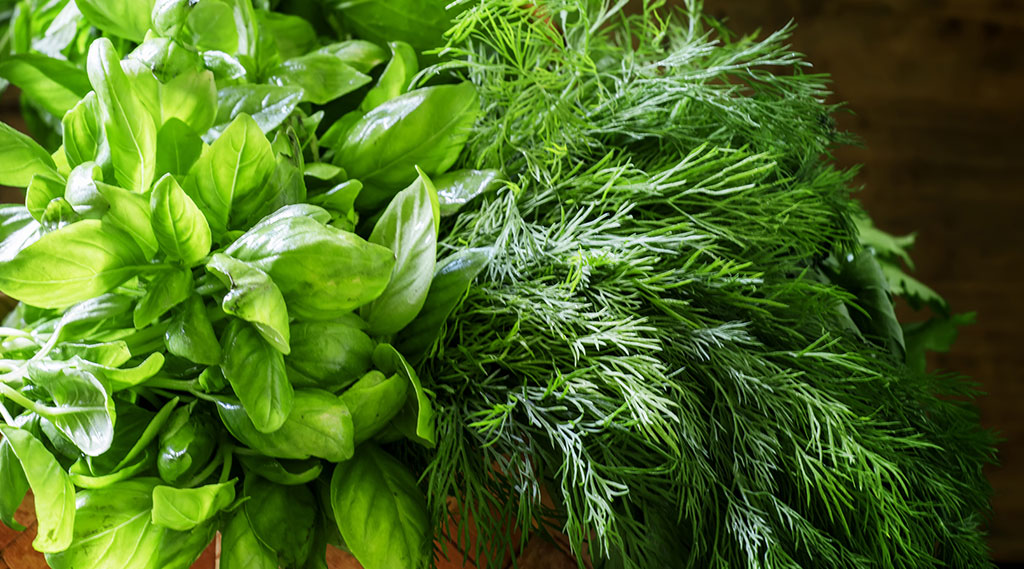 Soft, or tender, herbs have fleshy, delicate stems and a strong flavour that loses its intensity upon cooking, which is why these herbs are usually added at the end of the cooking process. Some examples of soft herbs are:
Coriander
Basil
Mint
Chives
Dill
Parsley
Lovage
Marjoram
Sorrel
Tarragon
Since they are quite fragile, they need to be treated differently from hard herbs.
Woody herbs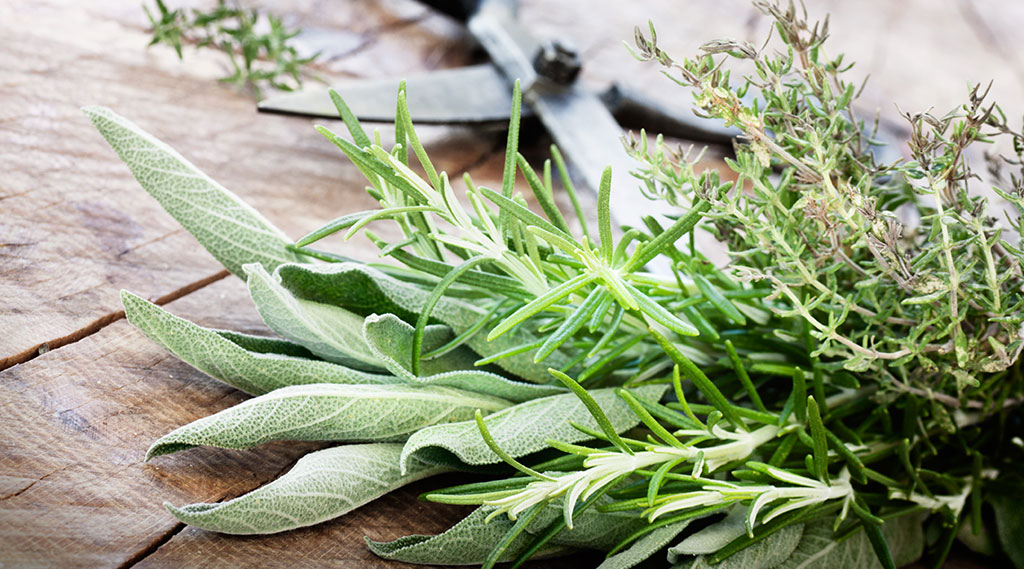 Hard, or woody, herbs are sturdier than their soft counterparts and are added to a dish during the cooking process, where they slowly release their flavour. Usually grown in warmer climates, these herbs have woody stems and tougher leaves that are resistant to moisture loss. As a result, they keep for much longer.
Woody herbs include:
Rosemary
Sage
Thyme
Lime leaves
Lemongrass
Curry leaves
Bay leaves
Lemon thyme
What are the factors that affect herb freshness?
Fresh herbs are still respiring after being harvested and as such, need certain conditions in which to thrive. When they were a part of a plant, they could manage their own conditions and remain healthy.
Here are the factors that affect herb freshness.
Light
Whilst plants need light for photosynthesis, fresh-cut herbs actually don't require light. In fact, exposure to bright light can turn their leaves yellow as it damages the chlorophyll (the green pigment that is responsible for photosynthesis).
Oxygen
Again, while almost all living entities require oxygen, most cut herbs start turning brown if they are exposed to too much air.
Moisture
All fresh-cut herbs require an optimum amount of moisture to remain fresh. Too little and they start drying, but too much and they start rotting.
Temperature
Temperature plays a significant role in ensuring herb freshness. Too warm, and the metabolic rate goes up and the herbs start deteriorating at a faster rate. Too cold, and the water inside the cells freezes and damages the cell walls, leading to your fresh herbs becoming mushy.
The best temperature to store fresh herbs is 3° C to 5° C This is the temperature range inside refrigerators, making them the ideal place to keep your fresh produce.
With these factors in mind, here are our recommendations on how to store your fresh cut herbs so they last longer.
The best way to store fresh cut herbs
In the fridge
If you're storing woody herbs in the fridge try to keep them in their original packaging, or in an airtight container.
As with woody herbs, soft herbs should be kept in their original packaging until they are needed. Any leftovers should be stored in an airtight container in the fridge.
The only exception here is basil, whose leaves start discolouring if the temperature is low. It should be kept out of the fridge, at room temperature, where it gets light but not direct sunlight.
Using these methods, you can store your fresh herbs for up to two weeks.
In the freezer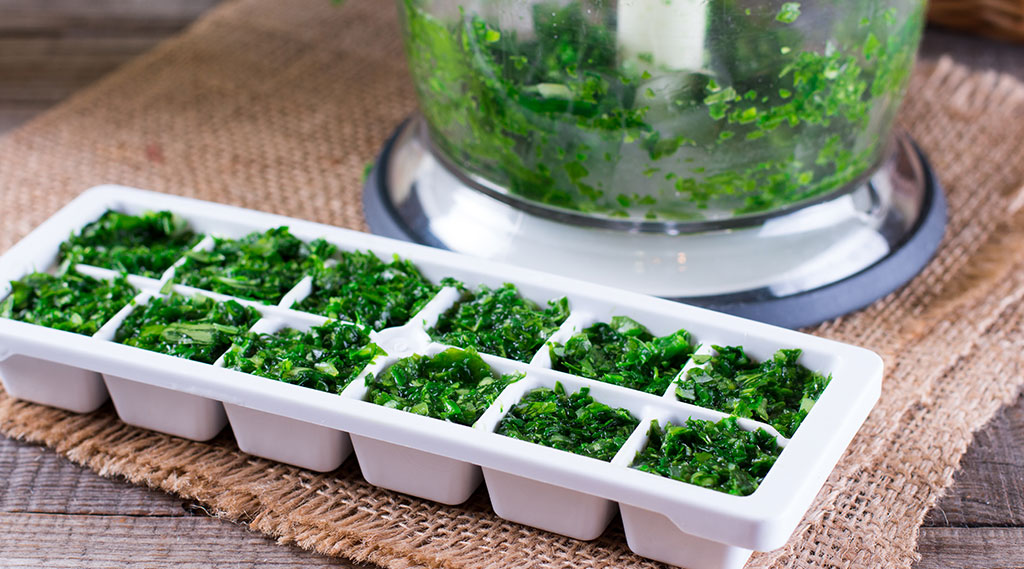 When using herbs as garnish, you want them looking fresh and beautiful so keeping them in the fridge is best. However, if they are going to be used in cooking, you want to preserve their flavour more than their appearance.
If that is the case, you can freeze any leftovers you may have.
To do that, simply remove them from their packaging, chop them, and put them in ice trays. You can pack in the chopped leaves alone or top them up with a flavourless oil (like sunflower oil) or water. Once frozen into cubes, you can pop them out of the tray and store them in freezer bags.
Out of the three options, you'll get the best flavour if you use oil. However, you can freeze your herbs for weeks, if not months by placing them in a plastic bag.
Simply take out as many herb cubes as you need for the recipe and add to the dish as it cooks. The heat will melt the frozen cube, releasing the herb's flavour into your food.
How to store fresh ingredients so they last longer
In addition to herbs, we offer a range of other ingredients that help you take your cooking to the next level. Here's how to store some of them so they last longer.
Chillies
Freezing chillies is a great option. They defrost rapidly so can be used as fresh. To store chillies, take them out of their packaging and remove the stem and the 'cap' that joins it to the body, as this is where they start growing mouldy. These can then be stored in a container lined with a kitchen towel.
Root ginger
The best way to store root ginger is in the refrigerator without cutting it up. The skin of this rhizome keeps moisture in, allowing it to last for around three weeks.
If you want to store it for longer, you can freeze the root whole or mince it first. When freezing it whole, leave the skin on and put it in a freezer bag. You can then take it out when you need it and grate what you need without thawing it.
You can also mince or grate the ginger to get a paste, which you can portion out into an ice tray without any additional water or oil needed. Once frozen, the cubes can be transferred into a freezer bag and you can simply take out as many cubes as you need in your cooking.
Turmeric root
Whilst most commonly used as a dried powder, turmeric root has a much fresher flavour and will impart that same golden colour to the dish.
Like root ginger, it can be stored in the fridge or freezer after you've washed it well and dried it thoroughly. Since moisture leads to mould, drying it well is important. It also helps if you wrap it loosely in a kitchen towel and then put it in a bag before it goes into the fridge.
To freeze it, cut up the root into portion-sized chunks and put in a freezer bag. Squeeze out the excess air from the bag before sealing and freeze.
When you need it for a recipe, you can take out exactly as much as you need, without having to thaw the entire quantity.
Padrón peppers
Padrón peppers are also called 'Spanish Roulette' as most of them are sweet, but once in a while, you get one that is hot! These peppers can be stored in the fridge in a plastic bag and best kept in the vegetable drawer.
Edible flowers
Edible flowers are very delicate, and normally don't last more than two or three days. However, you can keep them for up to a week if you keep them on a damp paper towel inside a container in the fridge.
As you can see, storing fresh herbs and ingredients is quite easy. If done properly, you can enjoy their delicious flavour for several weeks.
If you're interested in trying out different ingredients in your kitchen, our range of fresh produce might inspire you. For any questions you may have, please do get in touch.