Three of Our Favourite Herby Tomato Recipes
Three of Our Favourite Herby Tomato Recipes
http://rgfresh.co.uk/wp-content/uploads/Three-of-Our-Favourite-Herby-Tomato-Recipes.jpg
1024
569
R&G Fresh
http://rgfresh.co.uk/wp-content/uploads/Three-of-Our-Favourite-Herby-Tomato-Recipes.jpg
Ah, the humble tomato. Whether tangy or sweet, soft or firm, field fresh or unripe, tinned or pureed, they make for some of the most delicious food dishes on planet Earth.
They also go especially well with the fresh produce we're famed for here at R&G Fresh. Which only adds to why we love them so!
So to celebrate British Tomato Fortnight happening between 24th May and 6th June, we've put together three of our favourite tomato recipes featuring fresh herbs and other ingredients. We hope you love them, just as much as we do!
Fried green tomatoes recipe with herby ripe tomato salsa
The idea of eating unripe fried green tomatoes may sound funny. However, frying a green tomato softens them up and releases the delicious juices – whereas frying an already-ripe red one will break the tomato down into a lumpy mess.
Additionally, by coating the fried green tomatoes, you also add a satisfying crunch to what's often seen as one of the most satisfying starter tomato recipes.
We've gone for this BBC Good Food recipe as it also comes with a herb-tastic ripe tomato salsa – giving you all the tomatoey goodness you can handle, all in one dish!
Ingredients for the tomatoes
4 tablespoons of plain flour
200g of polenta
2 eggs
4 large green tomatoes (weighing around 500g), sliced roughly 1cm thick
vegetable oil (for frying)
How to make
To make your fried green tomatoes, start by sprinkling the flour onto a plate. Next, place polenta into a medium bowl, season and mix well. Put the eggs in a small bowl and beat the mixture.
Lightly coat a green tomato slice first in the flour, dusting off any excess. Then dip in the egg. Then coat in polenta. Repeat with the rest of the green tomato slices.
Heat a shallow pool of oil in a large frying pan then take the covered tomatoes and fry them in batches until crisp and golden on both sides. Makes sure you turn them over with a fish slice or thin spatula while cooking.
As each fried green tomato batch is done, drain them on kitchen paper and keep them warm in a low oven while you fry the other batches.
Ingredients for the salsa
1 handful mint leaves (finely chopped)
1  deseeded green chilli(finely chopped)
1 large or 2-3 medium ripe tomatoes (finely chopped)
2 spring onions (finely chopped)
2 tablespoon of lime juice
How to make
The salsa is designed to accompany your fried green tomatoes – and it's absolutely delicious!
To make it, simply mix all of the salsa ingredients above in a small bowl and season with salt and pepper.
Serve the fried green tomatoes hot, with the salsa either spooned over, or as a dip on the side.
Shakshuka recipe with chilli and coriander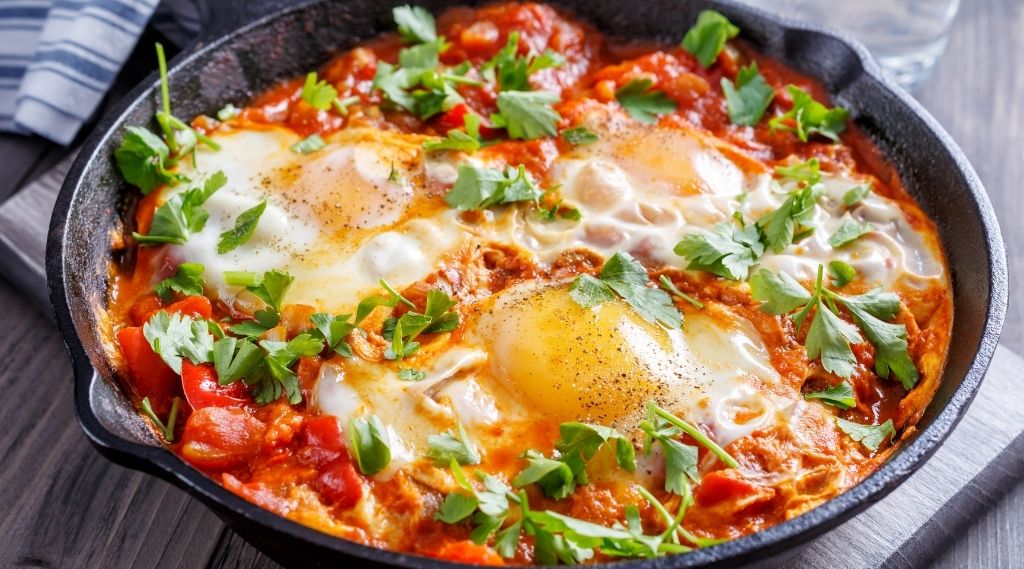 Shakshuka is a tomatoey stew with eggs on top that's brilliant as a breakfast food or evening meal alike – making it one of the most versatile tomato recipes around. It's designed for dipping, and can play host to a variety of herbs. We're especially partial to the easy and simple shakshuka recipe below, courtesy (yet again) of BBC Good Food.
Ingredients
1 red chilli, (deseeded and chopped into small pieces)
A small bunch of coriander leaves and stalks (chopped separately)
1 tablespoon of olive oil
2 red onions (chopped)
1 garlic clove (sliced or pressed)
2 cans of cherry tomatoes
1 teaspoon of caster sugar
4 eggs
How to make
Heat the olive oil in a lidded frying pan, then add the onions so they soften. As the onions are cooking, also add in the chilli, garlic and coriander stalks for 5 minutes until they're soft too.
Stir in the tomatoes and sugar, then cook the mixture all together for 8-10 mins until thick and bubbling.
Make 4 dips in the sauce with a large serving spoon, then crack an egg into each one (make sure to avoid any shell falling in!). Place the lid on the pan and cook on a low heat for 6-8 minutes, removing from the heat when the eggs are done to your tastes.
Garnish with the coriander leaves and serve with crusty bread.
Super tomatoey spaghetti sauce recipe
This super easy spaghetti sauce recipe is an original R&G Fresh creation. It's brilliant served with meat as speedy hassle-free Bolognese, but also goes well in a lasagne, or stirred into any pasta of your choice with grated cheese sprinkled on top!
Ingredients
1 handful of fresh oregano leaves
1 handful of fresh basil leaves
½-1 small diced red or green chilli to taste (entirely optional)
1 tin of chopped tomatoes
1 500g tub of passata
1 brown onion (finely diced)
2-3 garlic cloves (chopped or pressed)
1 beef stock pot
1 teaspoon of vegetable stock powder
2-3 tablet sweeteners or granule equivalent
1 medium-sized glass of red wine
Spray oil
500g beef or pork mince (optional)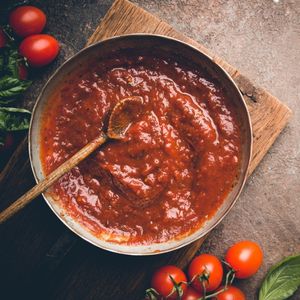 How to make
Coat a pan with spray oil and place on a high heat. When the oil is hot, add the onions until they start to soften. (if making lasagne or a Bolognese, add the meat at this point too). After a few minutes, add the garlic (and if you're adding spice, the chilli of your choice as well) and continue to heat for a further 2-3 minutes (or until the meat has browned).
Once the onions and garlic are soft (and the meat, if present, is cooked), pour in the tinned tomatoes and passata and lower to a medium temperature.
Shortly after the pot will begin to bubble. At this point, stir in the beef stock pot, vegetable stock powder and two of the sweeteners, then pour in the red wine, giving the mixture a final stir.
Lower the heat and cook for approximately 15 minutes.
Add the chopped basil and chopped oregano leaves, stirring them in so that the flavours combine with the now-thickened sauce. (As soft herbs, you're much better adding these towards the end of the cooking time, as explained in our blog on adding herbs to your cooking).
Heat for a further 5 minutes and taste-test, then add the last sweetener to suit your tastes.
Serve over spaghetti, pasta, or as the red filling in a lasagne.
How will you celebrate British Tomato Fortnight?
So those are three of our favourite herby tomato recipes. Which one will you be trying first? Let us know in the comments below, or tell us what recipes you'd like to see next over on our Facebook page.
For other brilliant foodie ideas full of fresh herbs and other hand-picked ingredients, check out our blogs below – or visit The Chopping Board to see them all in one place.