Using Herbs and Ingredients in Drinks
Using Herbs and Ingredients in Drinks
http://rgfresh.co.uk/wp-content/uploads/How-and-when-to-Use-Herbs-in-Cocktails.jpg
1024
569
R&G Fresh
http://rgfresh.co.uk/wp-content/uploads/How-and-when-to-Use-Herbs-in-Cocktails.jpg
What goes into your favourite cocktail? If your automatic answer would be to list a selection of different types of alcohol… well, we'd forgive you!
The truth is that fresh herbs are an underrated, and often overlooked, but still rather key ingredient to some of the most popular concoctions around.
With plenty of occasions coming up, we can't think of a better time to look at all the different ways to use herbs and ingredients in drinks.
How and when to use herbs in cocktails
As with any food or drink preparation, part of the success when using herbs and ingredients in drinks lies in pairing the right plants and liquor. The other part lies in preparing the herbs properly.
So before you begin mixing, here are the things we'd suggest you keep in mind:
Perfect pairings
Some drinks simply suit certain herbs perfectly. As a quick primer, those heaven-made matches include:
Coriander and tequila
Dill and vodka
Rosemary with any sweet citrus concoction
Basil and gin
Mint with… well, almost everything! (More on how to use mint leaves in drinks a little later).
Muddle it up
Instead of crushing your herbs like too many overzealous bartenders at the end of a day-long shift, take care using the proper tools. A muddler is essential here, used with a gentle, firm pressing motion that bruises rather than grinds your ingredients.
Done right, muddling will bring the oils to the surface, allowing them to infuse into the other liquids, bringing out the full flavour of your herb(s) of choice.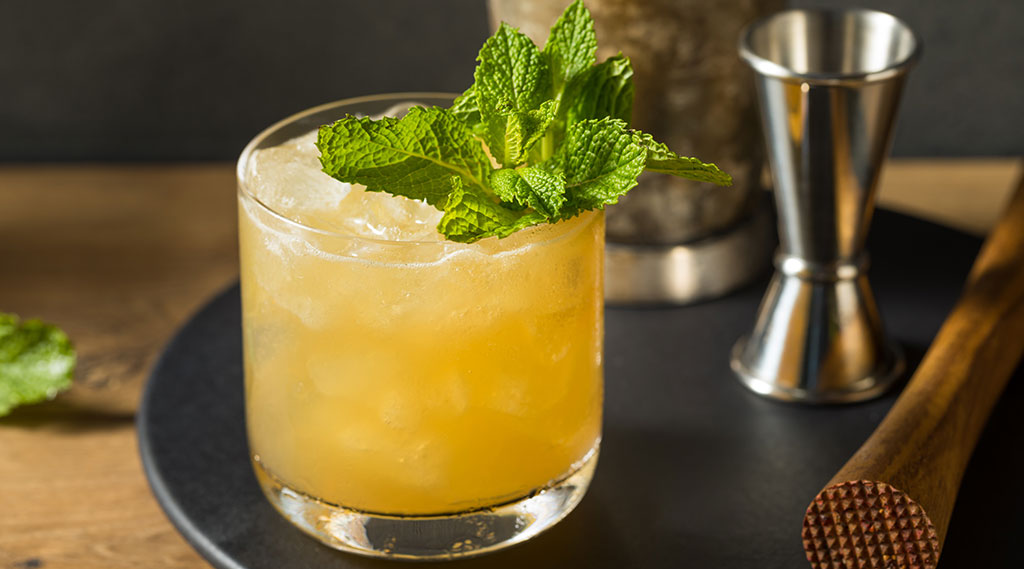 Awaken the aromas
This part is less 'using herbs and ingredients in drinks', and more on drinks!
Cocktail creation is less a science and more an artform, and that extends to the presentation aspect. Herbs can be a beautiful finishing touch to a cocktail – but for an extra flourish, make sure you release the scents locked inside the leaves.
You can do this through a process called Awakening, whereby you hold the leaves you've chosen and bring down your other hand upon them in a gentle slapping motion. If you've done it right, you should smell the aroma of your chosen herb begin to fill the room. That's when you're ready to use it as a garnish.
Some of our best herb-infused cocktail recipes
Mint
We'll start with the obvious choice – and by far and away the most versatile. Fresh mint's smooth, refreshing flavour makes it an ideal way to take the edge of sharper citrussy drinks. However, it also works when paired with a startling variety of other ingredients – from lemon or lime, to chocolate and cream.
Mojitos and juleps might be the most immediate choices for a recipe, but at the time of writing we wanted to keep the winter feel. So instead, check out this creamy and delicious Merry & Bright cocktail recipe from Mountain Cravings.
Basil
Aromatic and earthy in its more common green variety, but spicier and clove-like in its less common purple one, basil makes for a pungent and powerful cocktail ingredient.
One of the most unique we've tried is The Fallen Leaf, which muddles both garden green and coppery purple basil leaves before shaking them with white rum, lemon and honey. Visit Kitchen Konfidence for the full recipe and method.
Fresh ginger
Finely-grated fresh ginger goes down incredibly well in a cocktail, giving beverages a strong, spicy flavour.
In particular, ginger complements sour drinks rather nicely – such as in this Ginger Lime Whiskey Sour recipe by Delish. Incredibly easy to make, the method involves cooking up a ginger simple syrup in a saucepan, before adding the mixture to a cocktail shaker with bourbon, lime juice and, perhaps unexpectedly, an egg white! (Don't worry, it emulsifies with the alcohol, making it safe to consume).
Rosemary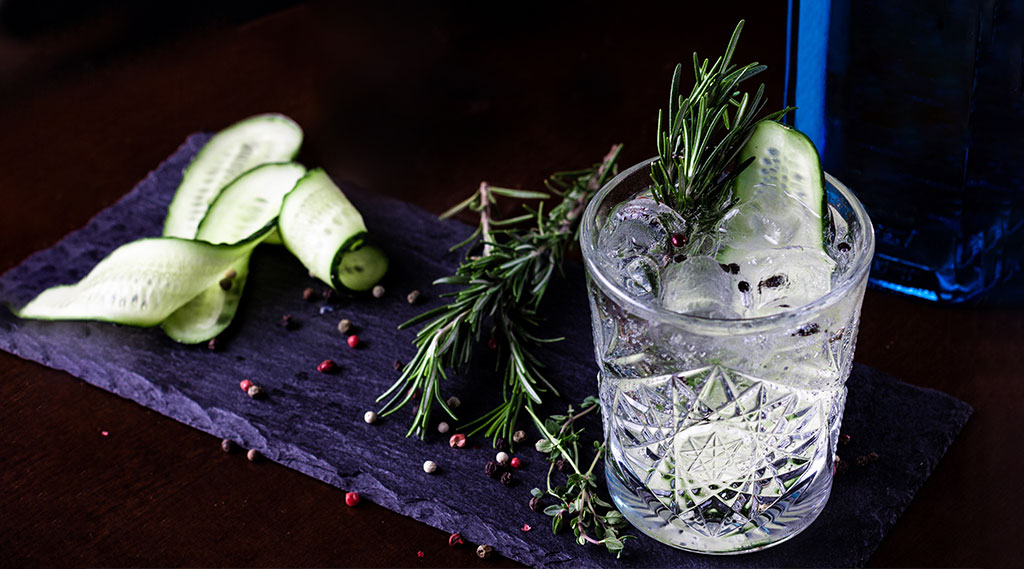 Used in the right amounts, rosemary can add richness and depth to a beverage. Of course, being a 'hard' herb, its strong flavour means rosemary can overpower the other flavours too – making it one to be especially careful with.
That flavour profile makes rosemary especially ideal for citrus-infused gin drinks. One such example is this gin-based Rosemary Gimlet from chef David Lebovitz.
Chillies
While our green, leafy produce might be a more obvious option in alcoholic beverages, our chillies can lend a nifty kick to any cocktail.
As recipes go, one of the simplest and most effective we've found is this mango, chilli and lime margarita from Taste. Blending tequila and lime juice with peeled fresh mangoes, sugar and half a fresh long red chilli, it's a wonderfully fruity concoction with a little extra spice. (Our tip: cut slits into leftover chillies and slide one over the side of each glass as an extra-colourful garnish!).
Or for something a little creamier, Jamie Oliver's frosty-looking boozy Christmas lemonade might go down a treat at New Year. Amongst its ingredients is a green jalapeno chilli, and just the one alcoholic ingredient: white rum (or alternatively Cahaca). Take out the latter and you can turn this into a tasty mocktail instead!
And that's just a taster
As you can see, there are a number of ways to use fresh herbs in drinks. The only limit really is how creative (or possibly daring!) you're willing to be.
If we've whetted your appetite, don't stop there! The Spruce Eat's blog 'Using Herbs and Spices in Cocktails' is full of more ways to use herbs and ingredients in drinks. Give it a read and turn opening your drinks cabinet into an adventure for the taste buds!
Feeling inspired? Visit our produce page to get an idea of the different herbs and ingredients you could add to your concoctions. Or head to The Chopping Board for our very own herb-infused food recipes.