Veganuary: Using Herbs in Vegan Recipes
Veganuary: Using Herbs in Vegan Recipes
http://rgfresh.co.uk/wp-content/uploads/Best-herbs-to-use-in-vegan-recipes.jpg
1024
569
R&G Fresh
http://rgfresh.co.uk/wp-content/uploads/Best-herbs-to-use-in-vegan-recipes.jpg
It's January! And you know what that means: it's also Veganuary!
Here at R&G FRESH, we love fresh herby dishes of all kinds, and our focus on ethical sourcing practices means we identify a lot with the Veganuary campaign and what it's trying to achieve.
So to celebrate Veganuary, and to encourage you to give it a go too, we've collected some of our favourite creative vegan recipes featuring fresh herbs.
Parsley and dill
Parsley and dill are two of the best herbs to use in vegan recipes, as their flavour profiles complement and contrast with each other nicely.
Both are soft herbs, but while parsley has an earthy, peppery taste, dill has a sharper, aniseedy one. Combining them in your cooking adds a rich and complex finish to dishes, which we're big fans of.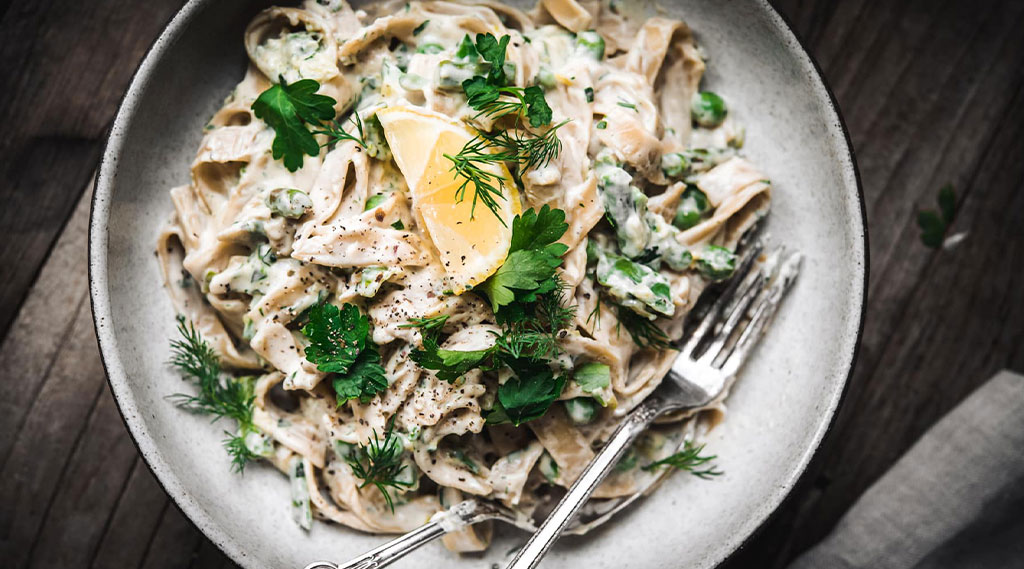 This meat-free pasta dish from Crowded Kitchen is a fabulous example. It looks incredible – and it tastes even better!
Alongside parsley and dill, it incorporates olive oil, leeks, peas, sugar snaps, salt, pepper, soak-softened cashews, lemon wedges and fresh or roasted garlic. Oh, and of course, vegan pasta!
You can even add a tad more protein with white beans or grilled tofu. And if the meat-eaters in your household absolutely can't do without it, they can always add grilled chicken pieces instead.
Creamy-tasting, herby and full of nature's flavours, this is a brilliant way to get friends and family members on board with Veganuary. But in all honesty, we think it would go down a treat on your dinner table any time of the year.
Turmeric root, coriander and red chillies
Fresh turmeric root has anti-inflammatory properties, making it one of the best herbs for a healthy vegan diet. It has a pungent, earthy aroma and adds a musky, peppery taste to meals – along with a golden glow that makes for eye-catching cooking.
Speaking of eye-catching, this recipe for turmeric pumpkin soup from Homespun Capers is certainly that!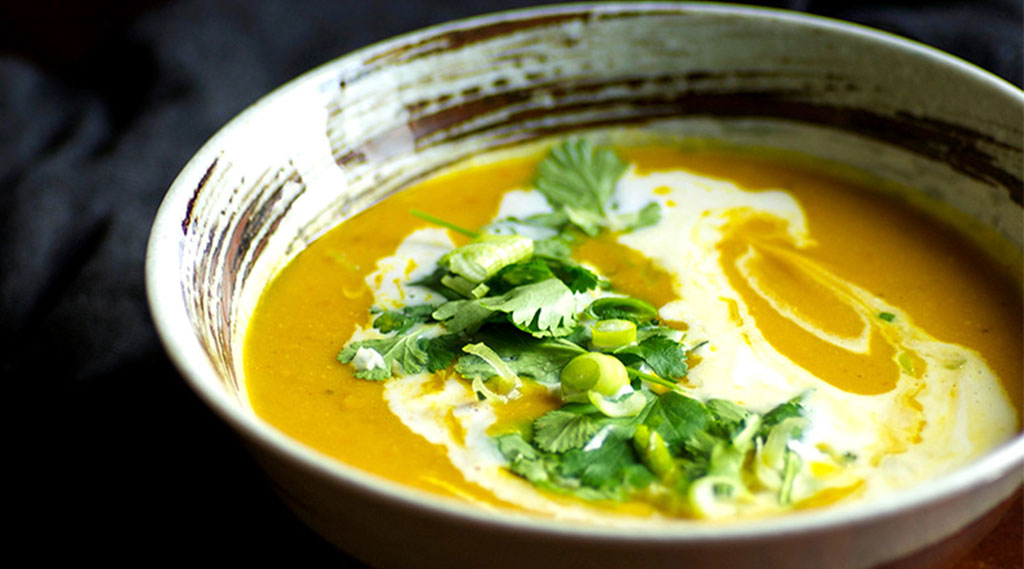 Alongside the headline ingredients, it also packs in coconut cream, red lentils, plus lime and coriander – the latter two of which lend a citrusy twist your taste buds are sure to pick up on.
The recipe here also calls for chilli flakes – but we say why not change it up with freshly sliced red chillies instead? We'd suggest one for every half teaspoon of flakes in the recipe, or more if you like your soup with a kick.
Basil
Hearty and aromatic, basil is a universal favourite in salads and hot food recipes alike – but did you know you could also use it in drinks?
Indeed, this recipe for a blueberry tahini basil smoothie from Unconventional Baker is one of our favourite vegan recipes you can make with fresh herbs.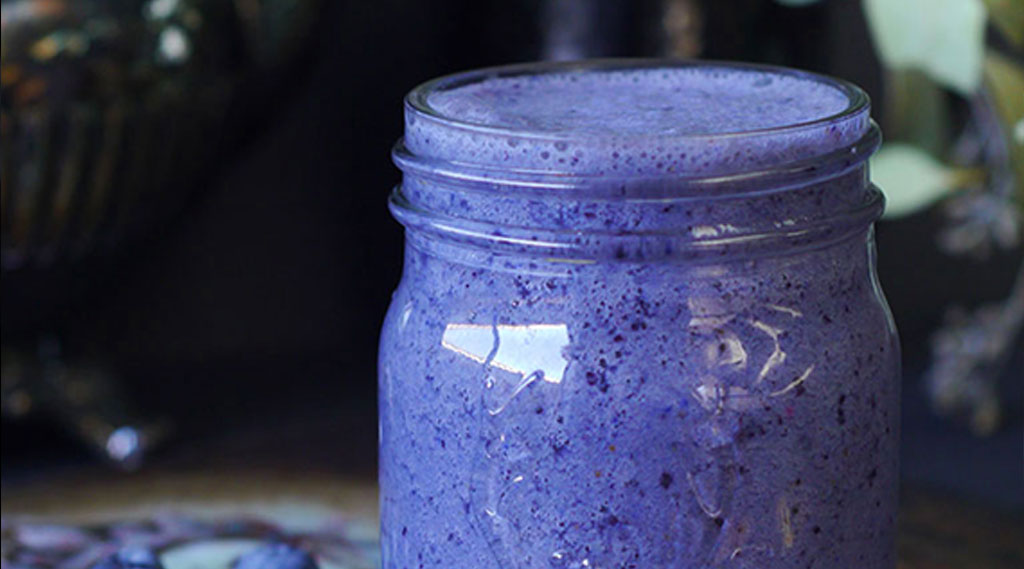 For starters – just look at the colour! We can completely picture serving this up to friends and family in the summer (or whenever lockdown laws will allow) and seeing the looks of intrigue and wonder.
It's so simple to make, too. Just whizz the ingredients – which also include non-dairy milk, frozen banana, hulled tahini and maple syrup – in a blender. Et voila!
The recipe even suggests changing it up by adding lemon juice, cinnamon, or raw vanilla bean extract. It really is a very versatile drink… and did we mention how perfectly purple it is?!
Oregano
We've stayed somewhat European so far for our vegan recipes you can make with fresh herbs. But now we're crossing continents for the taste of Mexico.
These Chimichurri tacos with mushrooms from Veggies Save The Day are a street food favourite, and this is by far one of our favourite creative vegan recipes featuring fresh herbs.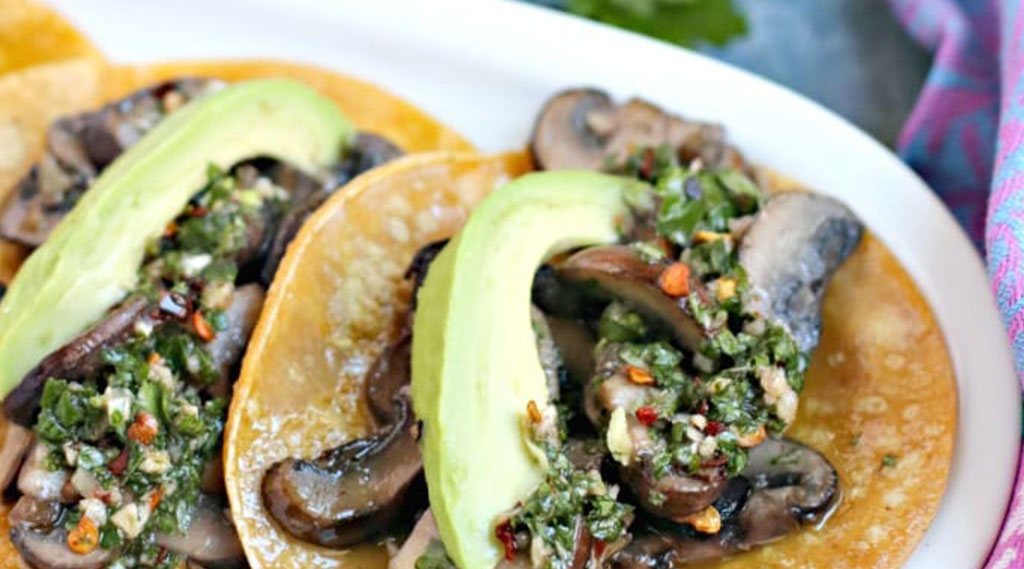 The herb in question, of course, is oregano. A typical favourite in Greek and Italian cooking, this time its bold and ever so slightly bitter flavour is used here as part of the Chimichurri sauce.
Also in there are parsley, garlic, red pepper flakes and red wine vinegar, plus salt and pepper and olive oil. They're all blended together and poured over skillet-heated corn tacos filled with sautéed mushrooms.
Top with sliced avocado, and you're good to go!
Don't have much room for mushrooms in your life? No problem – swap them out for jackfruit and black beans, sweet potato, or whatever else your taste buds desire.
Chives
And finally, fast food to finish – albeit encompassing two recipes, rather than one.
We found this vegan pesto stuffed crust pizza recipe from My Quiet Kitchen, which suggests using a basil pesto as both a topper and within the stuffed crust.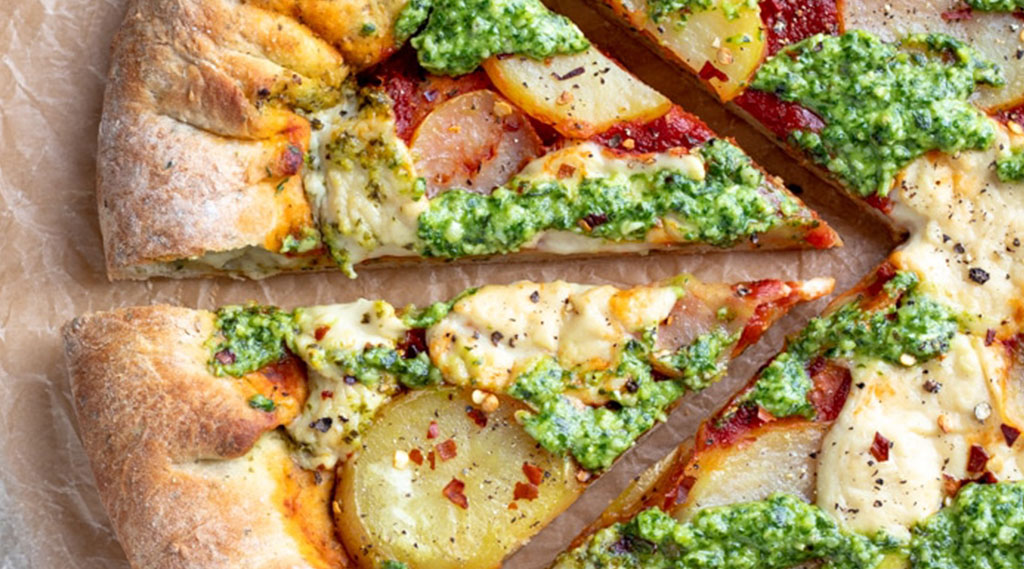 And honestly, while that's delicious enough, we want to be a bit more creative, by using what we think is secretly one of the best herbs to use in vegan recipes: chives!
Chives belong to the same family as garlic and onions but have a subtler and more delicate flavour. That's why we prefer the idea of stuffing said pizza crust with Food52's vegan spinach and chive pesto instead.
Tickled your taste buds?
So that's our contribution to Veganuary: five creative vegan recipes featuring fresh herbs you can make and enjoy at home. Have we inspired you to try eating (or drinking!) vegan?
For more of our recipes, check out The Chopping Board. Or head to this page on Feastie.com for a wealth of vegan recipes to last you throughout 2021 and beyond.