BBQing with Fresh Herbs: Our Top Tasty Combinations
BBQing with Fresh Herbs: Our Top Tasty Combinations
http://rgfresh.co.uk/wp-content/uploads/Solving-the-problem-of-Food-waste-d.jpg
1024
569
R&G Fresh
http://rgfresh.co.uk/wp-content/uploads/Solving-the-problem-of-Food-waste-d.jpg
Barbecue season is finally upon us – though you might not know it from the UK weather in recent weeks! Hopefully the sun comes out to play soon and you can enjoy trying out the recipes we've featured below.
Here at R&G FRESH, we think fresh herbs can really up your BBQing game, creating a mix of wonderful flavours that are sure to impress family and friends alike.
So, to give you some summer grilling inspiration, we've collected ideas for what we think are the best herbs for a BBQ and how to use them.
Grilling with fresh herbs
One of our favourite herbs for grilling is rosemary. It has intense flavour and stands up well to the rigours of a high-heat grill. As it's so robust, rosemary can also be used when smoking – just add whole stems to your smoker.
One great example of grilling with fresh herbs are these steak and rosemary skewers by My Garden Life. Simply remove the leaves from the bottom two-thirds of the rosemary stems, then, skewer the cubed meat and any vegetables you fancy adding to the mix. Finally, brush the kebabs with a marinade or olive oil and season with salt and pepper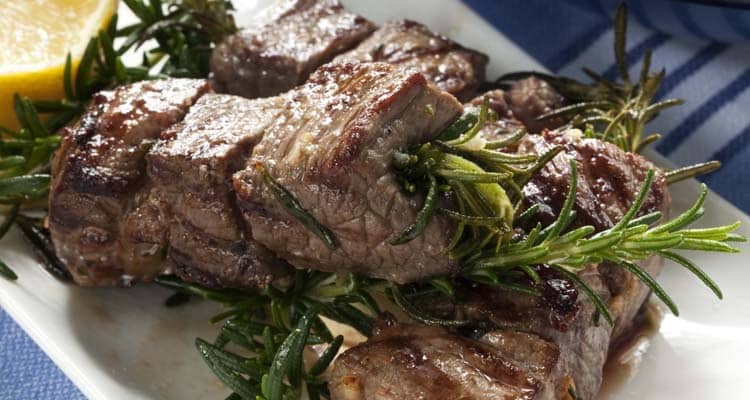 Image Credit: My Garden Life
BBQ cooking tends to lean toward strong-flavoured meats and fish, so you might also like to try cooking with thyme. It can add its own punchy flavour to the mix, making it easily one of the best herbs for a BBQ (in our opinion!).
An excellent grilling recipe involving fresh thyme is this grilled whole fish with lemon. The mix of flavours here makes for something much more interesting than your standard burger and sausages!
Making dry rubs with fresh herbs
If you're wondering how a BBQ with fresh herbs can be even better, a rub could be just what you're looking for!
Making a fresh herb dry rub for your next BBQ can add a whole new dimension to the flavour of your meats and fish. The fresh herbs you use can be down to personal preference, but a good rule of thumb is:
Rosemary, parsley, sage or basil go well with beef
Tarragon, basil, oregano and coriander go nicely with chicken
Sage, rosemary and thyme are great with pork
Oregano, thyme, fennel or dill is terrific with grilled fish.
Making a dry rub is fairly simple. Start by combining the finely chopped fresh herbs in a bowl with some salt and pepper. Then rub the mixture on both sides of your chosen meat or fish, cover it up, and leave it to marinate for at least an hour.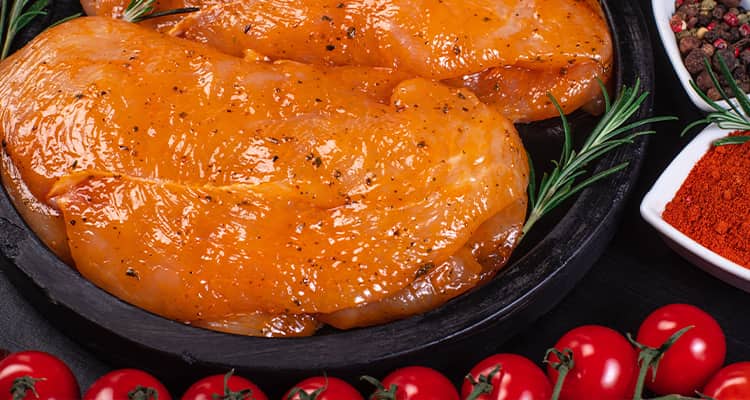 Fresh herbs with grilled veg
Fresh herbs don't just go well with meat and fish; they also work amazingly with veggies! Especially when added to the dish toward the end of the cooking process or just after removing the vegetables from the grill.
A few ways you can add fresh herbs to your vegetables include:
Tomatoes can be accented with; basil, bay leaves, chives, dill, garlic, marjoram, oregano, rosemary, tarragon, and thyme
Carrots go well with bay leaves, chives, dill, marjoram, mint, oregano, parsley, tarragon and thyme
Sweetcorn can be enhanced with: dill, marjoram, parsley or thyme.
We especially love this veggie kebab recipe from All Recipes. They're made with mushrooms, onion, red peppers and green peppers, along with fresh thyme and fresh rosemary.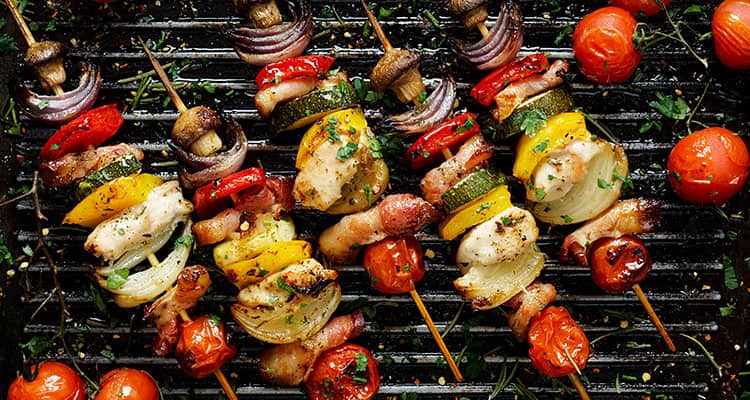 You can make them by threading the vegetables onto a skewer, alternating them as you go along. Once the skewers are prepped, mix together olive oil, lemon juice, garlic, thyme, rosemary, salt and pepper. Then brush the mushrooms and peppers with the mixture.
After that, just place the skewers on the BBQ and cook until the mushrooms are tender and cooked through!
(We added some extras to our skewers. What would you add?)
Feeling inspired to get the grill going?
So that's our blog on how to BBQ with fresh herbs! Have we inspired you to try some new recipes for any barbecues you have this summer? Let us know in the comments below.
For more of our recipes, check out The Chopping Board.