Taking Care of Our Staff During COVID-19
Taking Care of Our Staff During COVID-19
http://rgfresh.co.uk/wp-content/uploads/workers.jpg
1024
569
R&G Fresh
http://rgfresh.co.uk/wp-content/uploads/workers.jpg
At R&G FRESH, we are committed to providing our employees with a workplace in which they can flourish.
We invest in their training and development so they can grow professionally. Additionally, we encourage an open and honest environment so everyone has a voice and is heard.
However, employee welfare is not just about taking care of their professional needs. We also take care of their health and well-being at all times, but more so during the COVID-19 pandemic.
How did we support staff well-being during COVID-19?
When we first heard about the new pandemic, we reviewed our working practises to make sure they abided by the Government guidelines. More importantly, we adapted them to ensure that our staff stayed safe and healthy at all times.
Here's how we supported staff well-being during COVID-19.
A complete risk assessment
Our first step was identifying all possible areas of risk and creating systems and procedures to safeguard against them. We looked for ways to support our employees during COVID-19 and this included ensuring that we minimised chances of virus transmission.
Social distancing
We encouraged employees who could work from home to do so until the end of August. Any non-essential visits to and from the site were put on hold.
We set up portable toilet facilities so external drivers didn't have to enter the building. Furthermore, we held all meetings online, using Microsoft Teams.
If a meeting couldn't be held virtually, we made sure the meeting room was well-ventilated and everyone maintained a 2-metre distance.
Monitoring and reporting symptoms
Line managers were instructed to maintain regular contact with the staff members. They were equipped with thermometers and if anyone showed any signs of COVID-19, as specified by the NHS, they were to be sent home to self-isolate until they had passed the quarantine duration or tested negative for Covid-19.
If an infection was confirmed through testing, the management team was instructed to contact the Public Health Authority and help them identify those who may have come in contact with the person.
These measures were designed to keep every one of our people safe from the infection whilst they were at work.
Increasing awareness
In order to remind people of the steps to take for their own welfare, we placed posters in strategic positions. These displayed advice for the food industry and ensured staff and visitors were aware of how to prevent infection.
For even more comprehensive awareness training, we held regular briefings to remind our employees of the importance of social distancing and hand washing.
Additionally, we ensured our staff had facilities to wash their hands with soap and water regularly. Where this was not possible, we provided hand sanitisers.
Finally, we provided them with Personal Protection Equipment (PPE) that was to be worn as standard, including gloves, overalls, hairnets and aprons.
Environmental hygiene
To reduce the need to touch surfaces, we left all possible doors propped open. On top of that, we increased how often frequently-touched points were cleaned and disinfected.
We also started a monthly antiviral bio-misting in all shared areas and offices in an attempt to disinfect all possible surfaces and any airborne aerosol particles.
Changes in procedures
In order to ensure a contactless way of working, we revised a number of procedures. If employees could eat in their cars at lunch, we encouraged this to avoid overpopulating the canteen. For work areas where social distancing was difficult, we re-oriented workbenches so employees could stand side by side rather than facing each other.
At the end of the day, factory staff were instructed to leave in small groups so locker rooms and exits weren't overcrowded.
Essential boxes for our staff on site
We also took some additional employee welfare measures for COVID-19 that supported their mental health along with the physical protection we were providing.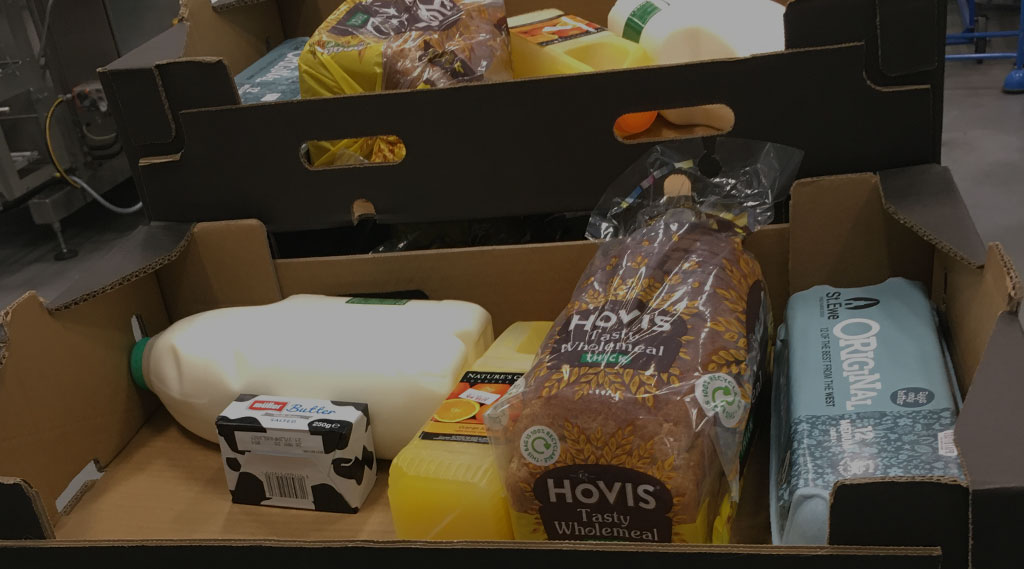 When we entered the lockdown, the whole structure of foodservice and hospitality changed dramatically. Hospitality, in particular, was devastated by restaurants and bars being closed and events and travel being cancelled.
The wholesale markets across the UK, as well as the rest of the world, had to adapt. Due to this, New Covent Garden Market in London saw a dramatic shift in operations, with many tenants switching to deliveries direct to the public.
We are quite proud of our staff, as they worked diligently to maintain a supply of fresh herbs and ingredients to our suppliers. In order to show our appreciation for their hard work, we provided them with essential boxes of their own.
Within a week of the lockdown, all our on-site staff had received a box of fresh fruit and vegetables, and the following week, they received a box of essential grocery items, including milk, bread, eggs and butter. This continued for two months until shopping items became more accessible.
With this token of appreciation, we aimed to communicate to our staff just how much their hard work meant to the company and that their welfare mattered to us.
Whilst the lockdown has been an uncertain time, we ensured that our staff were supported throughout. When the lockdown is lifted, we plan to emerge stronger than ever and continue to deliver excellence, like we've been doing for over five decades.
If you'd like to learn more about the team at R&G FRESH, you can do so here. For additional information, whether about our COVID-19 measures or our fresh produce, get in touch with us.