Five Herb-Filled Dish Ideas for World Pasta Day
Five Herb-Filled Dish Ideas for World Pasta Day
http://rgfresh.co.uk/wp-content/uploads/Five-Herb-Filled-Dish-Ideas-for-World-Pasta-Day-Header.jpg
1024
569
R&G Fresh
http://rgfresh.co.uk/wp-content/uploads/Five-Herb-Filled-Dish-Ideas-for-World-Pasta-Day-Header.jpg
25th October is the third annual World Pasta Day – an international celebration of all things related to one of our very favourite food types.
Pasta is fantastic because it's so very versatile, offering endless ways to get fresh herbs and other ingredients into wholesome, filling recipes. All of which can tickle the taste buds whether you prefer creamy dishes or tangy tomatoey ones.
So with that in mind, these are five of our favourite pasta dishes featuring fresh herbs. Enjoy!
Cheesy chive pasta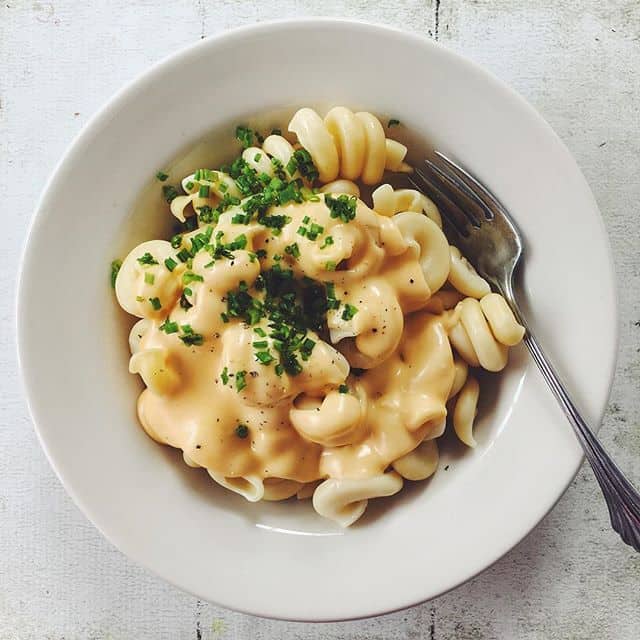 Everybody loves a good mac n cheese, and this is like a nicer, posher version! Simply boil up a pasta of your choice and while it's on the hob, make a thick béchamel sauce using two tablespoons of flour, two tablespoons of butter, around 240ml of a milk of your choice (we find plain soya or almond work well if your diet is non-dairy) – and add around 130g of grated cheddar to add the cheesy taste. (Go for extra mature to make it as cheesy as can be!). Then pour the sauce over the pasta and sprinkle with chopped chives for that extra bit of fresh-tasting crunchiness!
Simple, quick and ever so tasty, this cheesy pasta is one of our favourite ways to use fresh herbs with pasta.
Sausage pasta bake with chorizo, basil, thyme and melted brie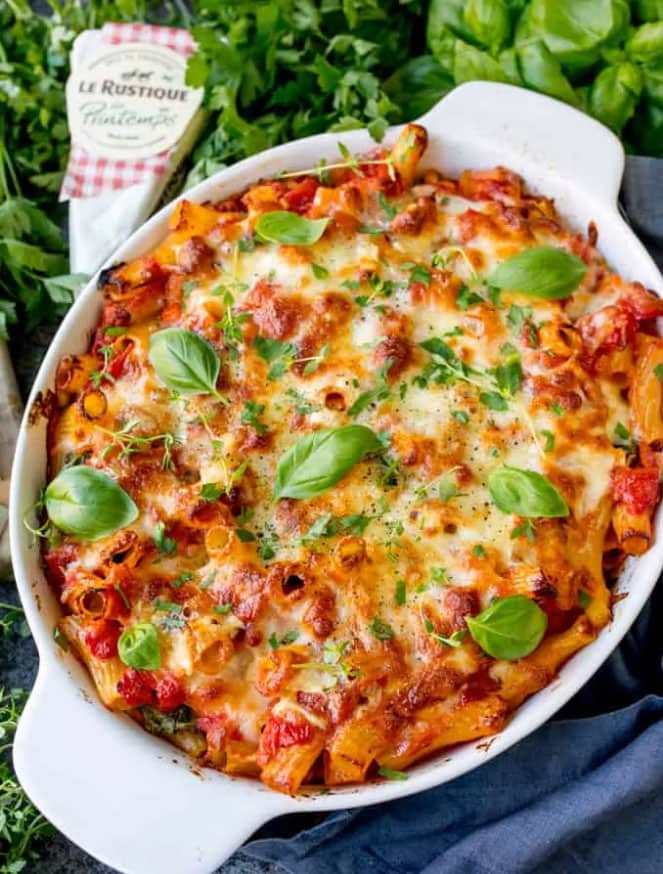 You can't beat a hearty pasta bake on a cold autumnal evening, and this is a delightful way to do that with two of the best herbs to pair with pasta – basil and thyme.
On top of that, in the pre-Covid times, the last week in October also used to be UK Sausage Week – so we thought we'd pay homage to that with a sausage-filled recipe you're guaranteed to love!
Packed with bangers, peppers, garlic, tomatoes, fresh baby spinach, mozzarella, brie and of course the aforementioned fresh ingredients (there's even a small bunch of parsley in there too!), this recipe from Kitchen Sanctuary is just a great antidote to a long workday as the nights draw in.
Vegetarians and vegans can always swap out the animal-based ingredients for alternatives, too – so everyone can enjoy this delicious dish on World Pasta Day. It's big enough for the whole family to enjoy – or if you're cooking for one, you can always put it in Tupperware and place it in the fridge to enjoy for the next few days.
Greek spaghetti Bolognese with dried or fresh oregano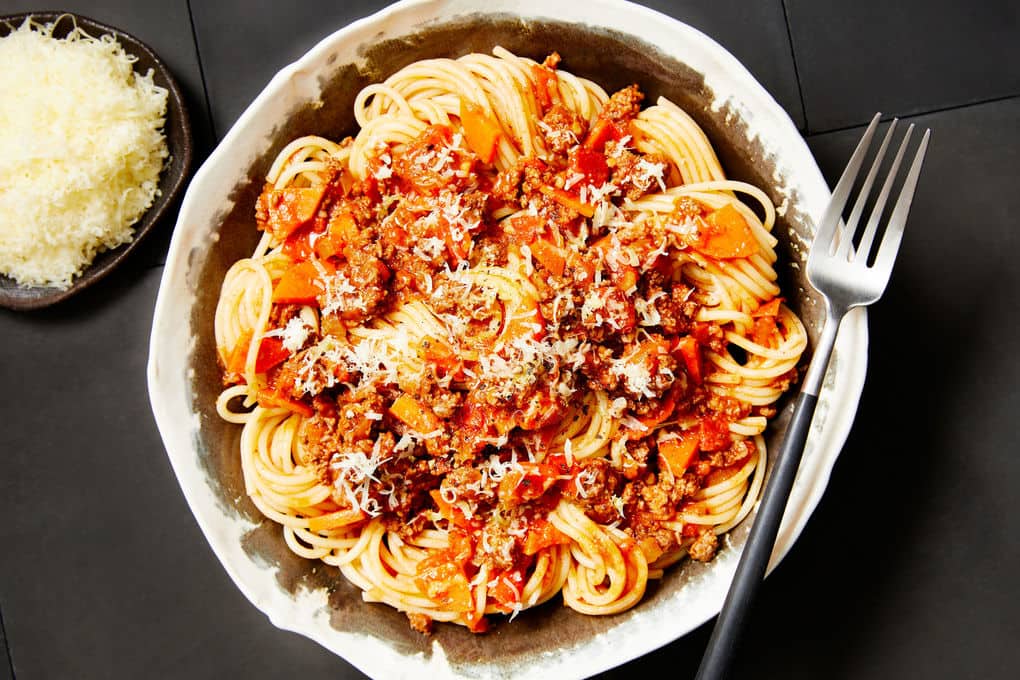 Here we have a fresh twist on a classic. You've almost inevitably had Bolognese before – but what about Greek Bolognese?
The twist in this recipe comes from the Baharat spice mix that includes cinnamon, cloves and nutmeg – but for our part, we also like to add a little fresh ground ginger and shredded turmeric to give things an added kick!
The Marley Spoon recipe also calls for dried oregano, but we prefer the freshly picked and packed variety. Whichever you go for, though, you'll find this to be a rich, succulent pasta dish with a bit of zing on the tongue. Definitely one of the best herby pasta dishes we've tried in a long, long time.
Shrimp spaghetti aglio olio with parsley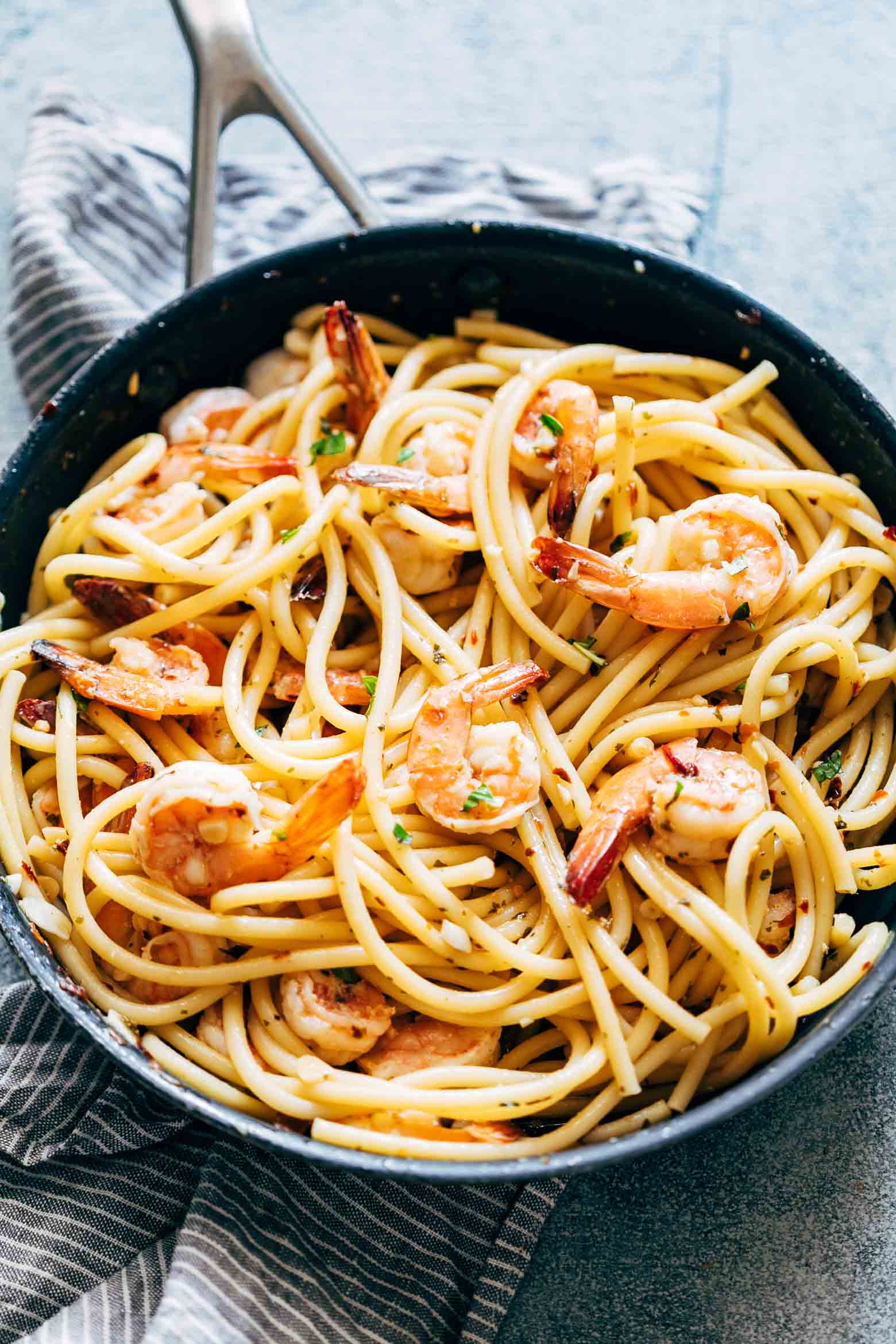 It might look like a labour of love in the picture above, but with just five key ingredients (garlic, chilli flakes, shrimp, parsley and parmesan – alongside oil, salt, water, and a spaghetti of your choice), this shrimp spaghetti aglio olio can be made by anyone in around 20 minutes.
We've picked this particular recipe because we're big fans of seafood – but also because it's one of our favourite ways to use parsley with pasta. Parsley has a complex and earthy flavour that doesn't always translate well to rustic dishes, but here it makes the whole concoction sing. Give it a go; we're sure you'll love it just as much as we do!
Chorizo, iberico ham and tarragon linguine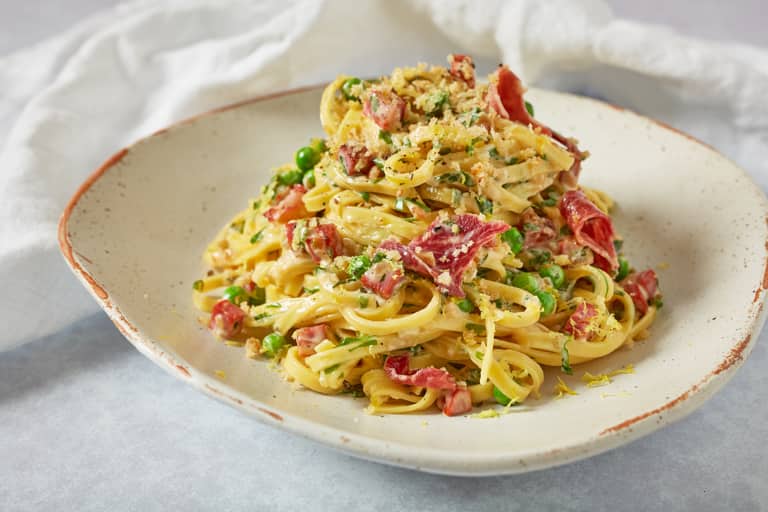 We're finishing off our list of five pasta dishes featuring fresh herbs and ingredients with another novel twist on a classic. We promise you've never had a linguine quite like this before!
The long list of ingredients for this creamy, rich, cheesy pasta dish includes a juiced and zested lemon, fresh peas, shallots, garlic, parmesan, double cream and shredded turnip tops, alongside the headline ingredients named above. The tarragon adds a zingy, refreshing aniseedy taste to the dish that perfectly complements the creaminess of the sauce and cheese, and it's all served tossed in thick, delicious linguine pasta – making for a delightfully Italian-inspired World Pasta Day. Or, indeed, any day of the week you choose to cook this on!
What will you be eating this World Pasta Day?
So those are our five suggestions for different pasta dishes that include delicious fresh herbs. Will you be making one – or perhaps rustling up your own original recipe instead?
Whatever you're eating, we hope you #HaveAGoodPasta – and don't forget to share your culinary creations with us on Facebook and Instagram using that very hashtag.